The U.S. Food and Drug Administration (FDA) has issued a safety alert regarding the increased risk for the development of blood cancer in patients who have textured breast implants.
The FDA said that the cancer associated with implants is not breast cancer, but a type of non-Hodgkin's lymphoma — a cancer of immune system cells. This type of cancer — known as breast implant-associated anaplastic large cell lymphoma (BIA-ALCL) — is found in fluid that accumulates around textured implants and is considered a rare form of cancer.
If the cancer has not spread, treatment consists of surgical removal of the implants and the scar tissue surrounding them. If detected later, chemotherapy may be necessary. BIA-ALCL typically develops years after implant surgery; the average length of time for development is seven years after implant surgery.
Medication like SGLT2 inhibitors treat type 2 diabetes by keeping the kidneys from absorbing glucose. People with type 2 diabetes have problems regulating their blood sugar, and these medications prevent the kidneys from absorbing too much. Instead, the glucose (sugar) is passed through urination without being absorbed.
BIA-ALCL was first identified 20 years ago, according to the World Health Organization. It first appears as an accumulation of fluid between the implant and the scar tissue surrounding it. Typically, the cancer cells are confined to the fluid and do not spread to surrounding tissue. Symptoms of the cancer include persistent swelling or pain in the area of the breast implant.
An Australian study showed that women with textured breast implants are 14 times more likely to develop BIA-ALCL than those with smooth implants. Textured implants are designed to allow tissue to grow around the implant and to help prevent scar tissue from becoming hard and painful. However, the textured implants are also more susceptible to bacteria formation because of their design.
Roberts & Roberts focuses on helping people who have been injured in accidents or have been the victim of faulty products. Please call 800-248-6000 or contact us for a free consultation with our experienced personal injury legal team for the compassionate representation you deserve.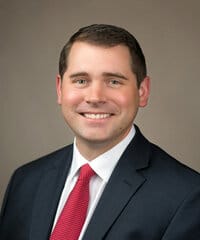 Justin is an attorney at Roberts & Roberts and focuses his practice on mass tort litigation, where he specializes in helping individuals who are harmed by recalled or unsafe pharmaceutical drugs and medical devices. He has earned recognition as a "Top 40 Under 40" Trial Lawyer by the National Trial Lawyers. Prior to joining Roberts & Roberts, Justin served as an attorney in all three branches of Texas's state government, including as a Briefing Attorney on the Texas Supreme Court. He also represented electric and natural gas utilities in complex regulatory proceedings before the Public Utility Commission of Texas and the Railroad Commission of Texas. Justin is a published author in the St. Mary's Law Journal.
Share This