In Texas, you may be able to collect damages for an injury that causes a loss of enjoyment of life. These damages fall typically fall within the "pain and suffering" category of compensatory damages.
What constitutes loss of enjoyment of life varies from case to case, but certain courts have upheld that the inability to engage in specific activities may qualify an injured person to compensatory damages. Some courts maintain that a person must be aware of the loss of enjoyment, while other courts consider it allowable if the injury places the party in a vegetative state.
Some of the activities a loss of enjoyment of life claim may entail include sports, dancing, music, sex, social activities and even sleep. The basic rule of thumb is that if you enjoyed an activity prior to your injury and cannot do it any longer because of that injury, you have suffered a loss of enjoyment of life.
Injuries that may be considered as causing loss of enjoyment include:
Significant facial scarring
Loss of a limb
General poor health
Damage to the nervous system
Damage to the heart that may cause a shortening of life expectancy
Loss of sensation (such as smelling, tasting, hearing, feeling, or seeing)
Depression/anxiety/mental disorders
In Texas, a loss of enjoyment of life claim is subject to the proportionate responsibility rule, which means that if you are found to be 20% at fault for the accident, your claim would be reduced by 20%. If you are found to be more than 51% responsible for the accident, you will be unable to assert a claim for loss of enjoyment of life.
The attorneys of Roberts & Roberts have the skill, experience and resources to fully investigate any serious accident or death.  If you have a question about an accident involving a serious injury or fatality, please call 800-248-6000 or contact us for a free consultation.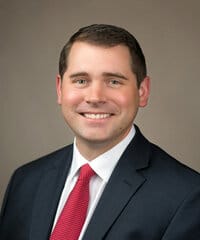 Justin is an attorney at Roberts & Roberts and focuses his practice on mass tort litigation, where he specializes in helping individuals who are harmed by recalled or unsafe pharmaceutical drugs and medical devices. He has earned recognition as a "Top 40 Under 40" Trial Lawyer by the National Trial Lawyers. Prior to joining Roberts & Roberts, Justin served as an attorney in all three branches of Texas's state government, including as a Briefing Attorney on the Texas Supreme Court. He also represented electric and natural gas utilities in complex regulatory proceedings before the Public Utility Commission of Texas and the Railroad Commission of Texas. Justin is a published author in the St. Mary's Law Journal.
Share This