According to a recent San Antonio Express-News article, Texas homeowner insurers have made more than $4.5 billion in profits in the state over the last five years. This may surprise you, since Texas has more than its fair share of damaging weather events that lead to billions in homeowners' insurance claims every year.
It may also surprise you to learn that insurance company lobbyists have been successful in introducing legislation that would result in insurance companies having to pay you as little as possible as late as possible. Known as the "Blue Tarp Bills," House Bill 1774 and Senate Bill 10 would, if passed, strengthen the ability of insurers to deny and delay claims.
Insurance companies are in business to make money, and they do this by paying as little as possible. They can also increase profits by delaying payments to homeowners. This new legislation would cut the penalty that insurance companies face for slow payment and force insurance disputes into an already overburdened federal court system, making it harder for consumers to assert their rights. At Roberts & Roberts, we work with many clients who have paid their insurance premiums believing that when needed, their insurance company would be there for them. When an insurance company denies your claim or delays it, that can add additional stress to already difficult situations. Insurance companies have employees trained to handle your case, send you paperwork, evaluate and process your claim. Without an attorney, people are forced to deal with this onslaught of paperwork on their own, which can be difficult and time consuming.
If you have suffered significant damage or lost your home in a storm, your focus should be on your safety and rebuilding. The last thing you should have to worry about is whether or not your insurance company will pay. If you are in a battle with an insurance carrier, contact us to learn how we can help. Working as your representative, we will take the burden from you and make sure that your insurance company does what they said they would – take care of you when you need it most.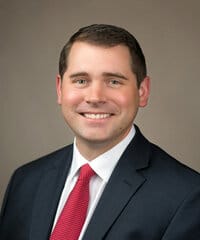 Justin is an attorney at Roberts & Roberts and focuses his practice on mass tort litigation, where he specializes in helping individuals who are harmed by recalled or unsafe pharmaceutical drugs and medical devices. He has earned recognition as a "Top 40 Under 40" Trial Lawyer by the National Trial Lawyers. Prior to joining Roberts & Roberts, Justin served as an attorney in all three branches of Texas's state government, including as a Briefing Attorney on the Texas Supreme Court. He also represented electric and natural gas utilities in complex regulatory proceedings before the Public Utility Commission of Texas and the Railroad Commission of Texas. Justin is a published author in the St. Mary's Law Journal.
Share This