Under Texas law, you are required to wear a seatbelt if you are operating or riding in a vehicle. Unfortunately, not everyone follows this important safety law. According to the Texas Department of Transportation, 25% of people who died and 11% who suffered serious injuries in a Texas car accident in 2015 were not wearing a seatbelt.
Despite efforts by accident lawyers, in 2015, the Texas Supreme Court ruled that if you were injured in an accident in which you were not wearing a seatbelt and filed a personal injury claim, the money you may receive from that claim can be reduced. That decision overturned a 1974 ruling where the Texas Supreme Court said information about seatbelt usage was not admissible in car accident cases. At that time, there was no law in Texas requiring seatbelt usage. That changed in 1984.
In overturning their 1974 ruling, the Court found that not wearing a seatbelt constitutes what is known as contributory negligence — in other words, you have contributed to your own injury by not wearing a seatbelt.
Texas is one of 20 states that has codified contributory negligence into what is known as the "51% Bar Rule." Under this rule, a plaintiff is not entitled to any compensation if he or she is more than 50% at fault in an accident. In other words, if you are involved in an accident, you can only be compensated if the other driver was 50% or more at fault than you.
Contributory negligence can also apply if you are a passenger. If you ride in a car without wearing a seatbelt and you are subsequently injured in an accident, you may have contributory negligence for your own injuries.
No matter what the law, wearing a seatbelt makes sense. Years of research has clearly established that those that wear seatbelts are less likely to be seriously injured or killed in an accident.
To see how this rule might apply in your case, we strongly recommend that you contact an experience car accident lawyer. If you or a loved one has suffered an injury, the experienced personal injury legal team at Roberts & Roberts is here to help with compassionate, aggressive representation. Please call 800-248-6000 or contact us for a free consultation.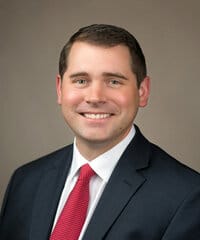 Justin is an attorney at Roberts & Roberts and focuses his practice on mass tort litigation, where he specializes in helping individuals who are harmed by recalled or unsafe pharmaceutical drugs and medical devices. He has earned recognition as a "Top 40 Under 40" Trial Lawyer by the National Trial Lawyers. Prior to joining Roberts & Roberts, Justin served as an attorney in all three branches of Texas's state government, including as a Briefing Attorney on the Texas Supreme Court. He also represented electric and natural gas utilities in complex regulatory proceedings before the Public Utility Commission of Texas and the Railroad Commission of Texas. Justin is a published author in the St. Mary's Law Journal.
Share This