In states like Texas that follow the collateral source rule, any compensation to an injured party from a source other than the injuring party does not get deducted from the total amount of damages. The primary purpose of the rule is to prohibit defendants from being able to count any monies paid by other companies to injured parties as a way to offset the damages owed.
While an experienced car accident lawyer can help you understand how the collateral source rule might apply in your situation, this article is intended to provide a brief overview of how it works.
This rule applies to damage to persons and to property. Generally, under the collateral source rule, discussing these payments is not permitted at trial, and no evidence of the payments can be introduced as evidence.
Examples of collateral sources include:
Health insurance
Medical insurance
Property insurance
Workers Compensation benefits
Disability benefits
Life insurance
However, if the defendant's insurance company pays the plaintiff, that amount is not subject to the collateral source rule, and can be deducted from the total amount owed.
Even though the collateral source rule protects you from deductions on total damages, you may have to repay your compensation source out of your total recovery amount. For example, many medical providers require liens on personal injury damages.
Exceptions to the collateral source rule include instances where you receive some compensation but fail to seek treatment or return to work. Some states place damage restrictions on medical malpractice cases, and in those cases, evidence of collateral compensation is also permissible.
Finally, although collateral source compensation may not be introduced at trial for the purpose of reducing the total amount of damages, the defendant is generally permitted to investigate the source and amount of collateral compensation.
If you or a loved one has suffered an injury, the experienced personal injury legal team at Roberts & Roberts is here to help with compassionate, aggressive representation. Please call 800-248-6000 or contact us for a free consultation.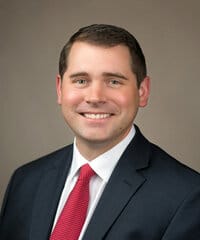 Justin is an attorney at Roberts & Roberts and focuses his practice on mass tort litigation, where he specializes in helping individuals who are harmed by recalled or unsafe pharmaceutical drugs and medical devices. He has earned recognition as a "Top 40 Under 40" Trial Lawyer by the National Trial Lawyers. Prior to joining Roberts & Roberts, Justin served as an attorney in all three branches of Texas's state government, including as a Briefing Attorney on the Texas Supreme Court. He also represented electric and natural gas utilities in complex regulatory proceedings before the Public Utility Commission of Texas and the Railroad Commission of Texas. Justin is a published author in the St. Mary's Law Journal.
Share This