Proving who was at fault in a car crash is largely a matter of determining who was negligent. In many cases, the answer will be apparent – but in some instances, you and yourcar accident lawyer will need to aggressively advocate your position to obtain the best possible result.
Personal injury matters are civil cases, and require a minimum standard of proof, also known as the "preponderance of evidence." This is why it is essential to document your accident as completely as possible, as soon as possible after it occurs. Be sure you take note of the following:
Accident – document every detail, including the date, time and location. What was the weather? Light conditions? What did you see? What did you hear? Where were you going? Most cell phones have built-in cameras, so if you have one with you and are able to take some photos immediately following your accident, be sure to do so.
Injuries – if you visit an emergency room or your doctor for any of your injuries, they will have a record for any claim. But you still need to make a note of any other pain or discomfort – physical and mental – that you suffer following your accident. Are you having trouble sleeping? Did some pain appear later – like a stiff neck or sore joint – that you did not have prior to the accident? Make a note of it all.
Loss – beyond the damage to your vehicle, you also need to make a note of any other property that was damaged or lost as a result of the accident. Also make note of any work or school you missed because of the accident.
Even if you were somewhat at fault in the accident, you may still be able to obtain some compensation if the other party was also negligent and at least 51% responsible for the accident.
If you or a loved one has suffered an injury, the experienced personal injury legal team at Roberts & Roberts is here to help with compassionate, aggressive representation. Please call 800-248-6000 or contact us for a free consultation.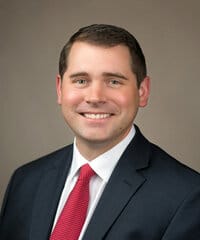 Justin is an attorney at Roberts & Roberts and focuses his practice on mass tort litigation, where he specializes in helping individuals who are harmed by recalled or unsafe pharmaceutical drugs and medical devices. He has earned recognition as a "Top 40 Under 40" Trial Lawyer by the National Trial Lawyers. Prior to joining Roberts & Roberts, Justin served as an attorney in all three branches of Texas's state government, including as a Briefing Attorney on the Texas Supreme Court. He also represented electric and natural gas utilities in complex regulatory proceedings before the Public Utility Commission of Texas and the Railroad Commission of Texas. Justin is a published author in the St. Mary's Law Journal.
Share This