If you've been injured due to a preventable accident, finding the right personal injury attorney shouldn't become a hassle.
First, it's important to understand what a personal injury lawyer is:
Personal injury attorneys are licensed to practice almost any type of law but they specialize in cases that fall under tort law. This type of law includes cases that stem from vehicle accidents, workplace accidents, construction accidents, oilfield accidents, defective products, and wrongful death claims, among others.
Personal injury lawyers usually have significant trial and negotiation experience, and an understanding of medical diagnoses and processes that are related to personal injury. They are regulated and licensed by their state bar association.
EXPERIENCE MATTERS
 Like any legal specialty, personal injury law covers a huge span of areas. It's advised to find an attorney that has been taking on cases like yours for a long period of time – nothing can replace real world experience. Research their specializations to ensure they have experience in the type of law necessary of your case.
Beyond their expertise in a particular area of law, ask about their trial experience. If your case is expected to go to trial, you want to be sure your attorney is prepared and experienced to fight for you in front of a court.
If you're in need of a personal injury attorney, look for one of the best in the field like Randell C. Roberts, a board certified, Tyler, Texas personal injury lawyer with 40 years of experience. With an extensive background as a personal injury attorney, he is one of the best Texas personal injury attorney's.
 WHAT IS THEIR RECORD?
Do your research on prospective attorneys to determine if they have a solid record of success in trials similar to yours. If a defective product has harmed you, make sure your attorney has a solid background in product defect claims; if you were hurt in an auto accident, check their record in traffic accident trials. It can go without saying, but ensuring a prospective law firm has won trials like yours is a criterion that has to be checked off.
A GOOD REPUTATION GOES A LONG WAY
A good reputation – they've either got it or they don't. Ask around in your community about a prospective law firm's reputation and check out their disciplinary record. Your state bar association will likely have a referral hotline that you can call for referral services. Online review tools, such as Google reviews, Yelp reviews and Avvo are all additional ways to see if the law firm's reputation meets the standards of their former clients.
If you've experienced a personal injury in Texas, the board certified attorneys at Roberts & Roberts are nationally recognized for their success in product liability cases, wrongful death, corporate misconduct and more. The Tyler, TX personal injury law firm is proud that many of their current clients are referrals from previous clients. Their positive reputation is a direct result of their expertise and excellence in the area of personal injury.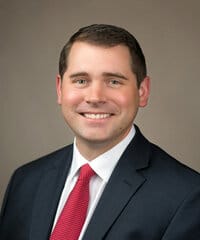 Justin is an attorney at Roberts & Roberts and focuses his practice on mass tort litigation, where he specializes in helping individuals who are harmed by recalled or unsafe pharmaceutical drugs and medical devices. He has earned recognition as a "Top 40 Under 40" Trial Lawyer by the National Trial Lawyers. Prior to joining Roberts & Roberts, Justin served as an attorney in all three branches of Texas's state government, including as a Briefing Attorney on the Texas Supreme Court. He also represented electric and natural gas utilities in complex regulatory proceedings before the Public Utility Commission of Texas and the Railroad Commission of Texas. Justin is a published author in the St. Mary's Law Journal.
Share This