You know someone else's actions caused your injuries, and you know you deserve financial compensation. But how much is fair?
Even if you have a ballpark idea how much money will cover your current medical bills, there's a lot more to determining a fair settlement than that. And the at-fault party's insurance company is not a reliable source when it comes to calculating what they might owe you (although they'll try to tell you otherwise).
Figuring out exactly how much to ask for may feel overwhelming. But if you don't put in the time and effort to make a realistic estimate, you won't know if the insurance company is lowballing you—and you may end up settling for far less than you need and deserve.
In this article, we'll break down how settlement demands are calculated in personal injury cases, and what you should ask for. We'll also explore some of the challenges you might encounter when seeking that full and fair amount. Finally, we'll round it out by explaining how a personal injury lawyer is your invaluable partner in getting the compensation you deserve.
First Step: Don't Talk to the Insurance Company Before Talking to an Attorney
Before you even have a chance to talk to a personal injury lawyer and calculate how much money you deserve, you're likely to hear from the at-fault party's insurance company. Our advice, always, is to not take this call and wait until you have a chance to receive solid legal advice.
The insurance adjusters and representatives have one job: to close personal injury claims as cheaply as possible. They are trained to speak to you in a friendly way, as if they're trying to help you quickly get money to cover costs. In reality, they're trying to save the insurance company time and money.
One tactic insurance adjusters use is to draw you into conversation, hoping you'll say something that might suggest your injuries aren't that severe, or even shifts blame away from their client. When they talk to you like a friend, you're more likely to slip and say something that they can use against you in settlement negotiations (or even to deny your personal injury claim outright).
Because of Texas' rule of modified comparative fault, taking on any blame for the car crash or other incident can impact how much compensation you're entitled to. Since the insurance company is likely to low-ball the settlement offer in the first place, we strongly recommend working with an experienced attorney before you engage with anyone who might pay out damages later.
How Damages Help Determine a Fair Settlement for a Car Accident (or Other Personal Injury)
Monetary compensation meant to offset the losses someone sustained due to an injury that wasn't their fault is called "damages." In a personal injury case, the injury event might be a car crash, a slip and fall, or a reaction to a defective product.
Damages are owed not just for monetary losses like medical bills and lost wages, but also for your injury's impact on your quality of life. Typical damages from a car accident and other common personal injuries include:
Medical expenses
Lost income
Pain and suffering
Mental anguish
Emotional distress
Damages also refer to the type of financial settlement you're after. These are categorized as compensatory or non-compensatory. Compensatory damages compensate people for losses, while non-compensatory damages are more about penalizing the at-fault party.
Compensatory Damages
This part of the settlement pays back money you've lost and are expected to lose in the future, and addresses how your quality of life has suffered. Compensatory damages are further broken down into economic and non-economic damages.
Economic damages (also called special damages): These losses have measurable monetary value, such as medical bills, therapies, medications, lost income, funeral and burial costs (if you have a wrongful death claim), and projected costs (if someone needs care for the rest of their life, for example).
Non-economic damages (also called general damages): These losses are less tangible but just as real. You may be entitled to compensation for pain and suffering, mental anguish, loss of companionship (in the case of wrongful death or a traumatic brain injury, for example), and other ways your life has changed because of the accident.
Non-Compensatory Damages
As mentioned, non-compensatory damages are usually about penalizing the at-fault party and sending a message of serious consequences for whatever they did.
Also called punitive damages or exemplary damages, this kind of settlement money is not commonly awarded. Punitive damages require the at-fault party to have been extremely reckless, such as intentionally creating dangerous conditions (aggressive driving or driving while intoxicated, for example).
Most of the time, the at-fault party's actions weren't so extremely reckless and punitive damages won't be part of the final settlement.
So, How Much Should I Ask for in a Personal Injury Settlement?
It's impossible to say here, without knowing the specifics of your case, how much to ask for in a personal injury settlement. It's difficult to even talk about an average personal injury settlement, since results can vary so widely. It all depends on the specifics of your case and even the laws of individual states.
However, we can explain how settlement demands are usually calculated. In every aspect of that determination, the goal of your personal injury attorney is to help you restore your life, as much as possible, to how it was before the accident.
For economic damages, you'll need to provide substantial documentation of your medical bills and lost wages. Your lawyer also may need to speak with other medical specialists, economists, or life care planners to come up with a realistic estimate for your future medical treatment costs, how long you'll be out of work, and even how much you might need to spend on household services, assistive technologies, or other expenses as a result of your injury.
For non-economic damages, the amounts will typically (although not always) be proportionate to your economic damages. For example, if your medical costs and lost income amount to less than $1,000 and you can return to "normal" life within a couple of weeks, your pain and suffering damages will be relatively small. However, if you have $50,000 in medical costs and miss several months of work, your pain and suffering damages are likely to be significant.
Most insurance companies use one of two methods to estimate non-economic damages in personal injury settlements:
The per diem method—a flat daily rate, usually based on your daily wage, applied each day from your initial injury until you reach maximum medical improvement.
The multiplier method—multiplying your special damages by a certain factor, usually between 1 and 5, based on the severity of your pain and suffering to calculate non-economic damages in personal injury cases.
However, they are likely to use a method and assumptions that underestimate the true nature of your injuries, rather than one that results in a truly fair personal injury settlement.
The best way to demonstrate your pain and suffering, in addition to records of your economic costs, is a regular record of how your life has changed. This could be daily journal entries about physical pain and emotional trauma, or pictures comparing abilities before the accident to inabilities afterward.
RELATED: Debunking 5 Common Car Accident Myths
What if the Settlement Amount Doesn't Cover My Costs?
What do you do if you need and deserve $100,000 in financial compensation, but the at-fault party's insurance policy will only provide $30,000 in insurance coverage (the minimum liability coverage required in Texas)? Filing a personal injury lawsuit against the at-fault driver and targeting their personal assets may be an option, but if they don't have $70,000 on hand, you're not likely to get what you need.
Fortunately, your car accident lawyer will know where else to look for the assistance you deserve, often right within your own auto insurance policies. Some common sources of compensation include:
Personal injury protection (PIP): Auto policies include this unless you decline it in writing. PIP helps with medical expenses, non-economic costs, and lost wages.
Uninsured/underinsured coverage (UIM): If the at-fault party does not have insurance, carries too little for your needs, or leaves the scene and can't be held accountable, this coverage on your policy steps in to help. Like PIP, you should have this unless you've specified otherwise.
Medical payments coverage: This is similar to PIP, though it's not the default and only covers medical costs for you and your passengers.
Although pursuing these options can add time to your case, it's often well worth your time to explore them. And, if you're partnered with an experienced personal injury attorney, much of the legwork and detail will be taken care of for you.
It's also important to understand that, after your case has been won, your attorney may be able to negotiate with your medical providers and settle your debt for less than what you owe, ideally so you won't still have to pay out of pocket and can even keep some of your settlement for yourself.
Fighting for fair compensation is about ensuring long-term security and stability for injured people and their families. Our legal team takes that job seriously, and invests time and energy so that you get the compensation you deserve.
RELATED: Will My Settlement Affect My Social Security Payments or Other Government Benefits?
Contact Roberts & Roberts for Help Getting the Settlement You Deserve
We promise to give you and your case full attention when you work with the personal injury lawyers at Roberts & Roberts. Let us put decades of experience to work for you, from determining how much you should demand to negotiating for it aggressively.
You won't pay anything up front when you hire our law firm. We begin with a free consultation, and only get paid when we secure your settlement or jury award. We can take your call 24/7, and will come to you if you are unable to meet in our offices.
To learn more or set up your initial case evaluation, call (903) 467-5757 or use the contact form on our website today.
The content provided here is for informational purposes only and should not be construed as legal advice on any subject.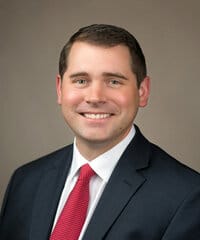 Justin is an attorney at Roberts & Roberts and focuses his practice on mass tort litigation, where he specializes in helping individuals who are harmed by recalled or unsafe pharmaceutical drugs and medical devices. He has earned recognition as a "Top 40 Under 40" Trial Lawyer by the National Trial Lawyers. Prior to joining Roberts & Roberts, Justin served as an attorney in all three branches of Texas's state government, including as a Briefing Attorney on the Texas Supreme Court. He also represented electric and natural gas utilities in complex regulatory proceedings before the Public Utility Commission of Texas and the Railroad Commission of Texas. Justin is a published author in the St. Mary's Law Journal.
Share This