You didn't plan on getting injured in a car crash, and you certainly didn't plan on a stack of medical bills and lost income. On top of that, you might feel frustrated with a legal system that seems more concerned with paperwork than getting the money you need to feel whole again.
Whether or not you're already working with a personal injury attorney, this entire situation can be isolating. Our job is helping injured people and their families feel less alone by not only fighting for a full and fair settlement, but also addressing the concerns and questions that naturally arise in a car accident case.
This article will explain why that settlement is taking so long, and provide some options for moving things forward. As seasoned car accident lawyers, we'll also discuss how the right law firm can ensure you have the best possible experience from start to finish.
What Can Slow Down the Pace of a Personal Injury Claim?
For someone who's been injured in a car crash, the days and weeks afterward can feel like a whirlwind of time-sensitive actions, like getting vital medical attention and assessing your family's needs. It's frustrating, then, when your swift actions are met with constant waiting.
Still, we generally recommend that injured people file a claim sooner rather than later. One major reason is the statute of limitations. This is the time limit on when you may file a personal injury lawsuit, which is two years in the state of Texas.
Even when you start the process as soon as possible, the claims process itself can take months or even years to complete. Several factors can slow down the pace of your claim.  These include:
Gathering Records
In order to demand the most accurate settlement amount, and then back up your demand, you need evidence. This might be anything from medical records and receipts, to witness statements and dash cam footage, to working with experts like accident reconstructionists who can carefully analyze that evidence to piece together what actually happened.
Working with an experienced car accident attorney means you're more likely to identify, protect, and access all the evidence you need to prove your car accident claim. But it won't all happen in a day.
Calculating Damages
As more information about your case comes to light, it can alter how much money you can seek in an auto accident settlement. In addition, new developments in your recovery can change not only your current bills, but how much healing is expected to cost you in the future.
In order to accurately calculate how much your case is worth, your attorney needs time to carefully review the evidence once it's been gathered, and again that will take time. You don't want your demand to the insurance company to be far less than what you need and deserve.
Lengthy Medical Recovery
Some people recover from a car crash injury within a week. Others take years to be restored. Ideally, you will reach maximum medical improvement (MMI) before finalizing your claim amount. That means you're either fully recovered, or your doctors believe that no further improvement is likely.
Being as healed as possible will give you a better sense of how much you're actually owed. The longer healing takes, the longer before you receive your settlement.
Waiting on a Response
While your attorney is conducting an investigation, the insurance company will be performing one of their own. And once you submit your demand letter, they will take time to review and respond.
The law outlines timelines for responding to legal demands. If the various sides take the maximum time allowed, and there are multiple rounds of back and forth in negotiations, it can stretch out the process. In some personal injury cases, the insurance company might intentionally take as much time as it can. (We'll talk more about this in a minute).
Disputed Liability
It's not uncommon for the involved parties to disagree about who is at fault, or how fault is shared. Whether there is truth to the dispute or not, these disagreements draw out negotiations and lengthen the entire process.
Sometimes, negotiations break down altogether and you end up filing a lawsuit against the at-fault party. While it does mean your case now has a defined set of steps to go through and will ultimately result in a ruling one way or the other, it is another potentially lengthy legal process.
Delay Tactics
Insurance companies and defense teams sometimes delay the process, hoping you'll get frustrated and accept their low-ball offer. Tactics might include extending deadlines, uncovering "new" (real or otherwise) evidence against you, and other strategies.
Distribution Process
Even an agreed upon settlement amount doesn't mean you'll have money in your hands quickly. The legal system has an entire process for distributing settlement checks, and it isn't necessarily a fast one.
If you work with an experienced personal injury attorney, they'll stay on top of monitoring where your money is and how soon you'll receive it. In fact, a good attorney will also use this time to negotiate any debt that must be paid from settlement funds (for example, hospital bills) so that as much of your car accident settlement as possible ends up in your pocket.
RELATED: How Much Should I Ask for in a Personal Injury Settlement?
How Insurance Companies Complicate the Process
The more complicated your case, and the more the above factors come into play, the more opportunities the insurance company will have to delay and reduce your payout.
The insurance company's goals are to pay you as little as possible and save money. Often, this means they'll try to settle your case quickly with a lowball settlement offer, hoping you'll take it and go away. But if you don't fall for that trap, and indicate you're willing to fight for a fair settlement, they may quickly switch tactics.
We always tell clients not to speak to the at-fault party's insurance company, at least not before speaking with a car accident lawyer first. Simply having a conversation with anyone who may have to pay you risks complications. For example, they may try to get you to say something that shifts some blame in your direction. Because of Texas' rule of modified comparative fault, this is a risk you don't want to take with your financial compensation.
While some insurance companies delay the process, others might try to dismiss it altogether. One way to do this is to "run out the clock," delaying things for so long that you've passed the statute of limitations and don't have the option to file a lawsuit. This is far more likely if you're not working with a knowledgeable personal injury lawyer.
How a Personal Injury Attorney Helps You Get Your Settlement in a Timely Fashion
Having a reliable car crash attorney in your corner is the best way to avoid and combat these complications. They're aware of these tactics and risks, and take on the heavy lifting of negotiating aggressively for what you deserve.
For example, if you've been hit by a large commercial truck, important evidence might include the driver's logbooks, dash cam footage, and details on the trucking company's training practices. These are not easy or fast to obtain, and after a period of time the trucking company can even legally destroy certain records. An attorney will know better than most how to get them before that happens. And if this evidence is significant to your case, it's worth the effort.
Understand that working with a lawyer means a thorough legal process, which takes longer than accepting what the insurance companies offer in the beginning. Still, it's better to hold out and fight for a fair settlement than accept an early, insufficient offer.
RELATED: Will My Settlement Affect My Social Security Payments or Other Government Benefits?
Roberts & Roberts Keeps You Updated on Your Case at Every Turn
We understand the stress that comes with a personal injury case, and do all we can to alleviate it for you. This includes keeping you in the loop about changes and answering any questions you have about the process.
Our law firm focuses on thorough, effective work. Sometimes, that means we can get car accident settlements faster, due to our experience and reputation. Other times, it may take a little longer—because we're willing to dig as deep as necessary to get you the fair settlement you deserve.
While we understand the anxiety and frustration, it's almost always worth the wait when it means finding every possible source of compensation. Once you settle, you don't get any do-overs, so you need to be absolutely sure that it's large enough to provide for you and your family's long-term needs.
And remember, you don't pay us until we secure a settlement or jury award for you.
If you or someone you love is frustrated with the process of obtaining the settlement you deserve, let us help you out. To learn more about us and set up your free case evaluation with a car accident lawyer, call (903) 467-5757 or use the contact form on our website today.
The content provided here is for informational purposes only and should not be construed as legal advice on any subject.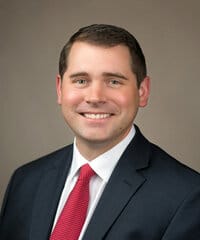 Justin is an attorney at Roberts & Roberts and focuses his practice on mass tort litigation, where he specializes in helping individuals who are harmed by recalled or unsafe pharmaceutical drugs and medical devices. He has earned recognition as a "Top 40 Under 40" Trial Lawyer by the National Trial Lawyers. Prior to joining Roberts & Roberts, Justin served as an attorney in all three branches of Texas's state government, including as a Briefing Attorney on the Texas Supreme Court. He also represented electric and natural gas utilities in complex regulatory proceedings before the Public Utility Commission of Texas and the Railroad Commission of Texas. Justin is a published author in the St. Mary's Law Journal.
Share This