By the year 2030, everyone in the baby boomer generation will be over the age of 65. As this generation grows older, age-related health problems will become increasingly common. This is especially true for surgeries like hip and knee replacements.
The number of hip replacements performed every year is already skyrocketing. In 2000, there were 138,000 hip replacement surgeries; by 2010, that number had more than doubled to 310,000 surgeries. Experts in the medical field expect these numbers to keep going up, and predict that over 572,000 people will need a hip replacement by 2030. The same trend is happening with knee replacements. The same experts have predicted that by 2030, the number of first-time knee replacements will increase by 673 percent, to 3.48 million. These numbers are so high that many worry that there will not be enough orthopedic surgeons to handle the workload.
As the number of people needing hip and knee replacements has increased, so have the number of lawsuits filed over defective implants. Knee implants made by Zimmer, Inc. have been recalled after surgeons reported the implant and joint loosening, patients with chronic pain, and early device failure. DePuy Orthopedics, a leading manufacturer of hip implants, was forced to pay at least $2.5 billion to thousands of people injured by the company's ASR hip implants. Stryker Orthopedics voluntarily recalled two types of metal-on-metal hip implants in 2012, and currently faces thousands of pending lawsuits.
Other companies like Biomet, Wright Medical Technology, and OtisMed Corporation are also being sued for hip or knee implants that fail, causing patients excruciating pain.
Many of these devices failed because they were not thoroughly tested prior to being approved for use. As the demand for more hip and knee replacements increases, it is likely that additional manufacturers will attempt to push new products through the FDA approval process without proper testing or trials. Unfortunately for patients, this will likely mean that lawsuits over defective medical implants will also increase.
If you or a loved one is having joint replacement surgery, be sure to watch for signs that the implant could be defective. In general, patients with defective implants report feeling severe pain around the joint, feeling like the joint is loose, or feeling a grinding sensation in the joint. Defective implants that are not replaced quickly can lead to metallosis, which is a buildup of metallic debris in the tissue, as well as osteolysis, which is where the bone surround the implant dies. Many people injured by defective joint implants need multiple operations to correct the various issues caused by the defective implant.
If you are in extreme pain after a hip or knee replacement, always contact your doctor. If you learn that your hip or knee implant needs to be replaced, speak with an experienced defective medical device attorney.
If you or a loved one has suffered an injury or injustice, the experienced personal injury legal team at Roberts & Roberts is here to help with compassionate, aggressive representation. Please call 800-248-6000 or contact us for a free consultation.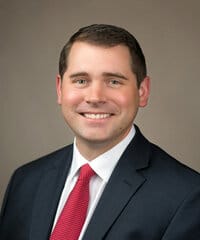 Justin is an attorney at Roberts & Roberts and focuses his practice on mass tort litigation, where he specializes in helping individuals who are harmed by recalled or unsafe pharmaceutical drugs and medical devices. He has earned recognition as a "Top 40 Under 40" Trial Lawyer by the National Trial Lawyers. Prior to joining Roberts & Roberts, Justin served as an attorney in all three branches of Texas's state government, including as a Briefing Attorney on the Texas Supreme Court. He also represented electric and natural gas utilities in complex regulatory proceedings before the Public Utility Commission of Texas and the Railroad Commission of Texas. Justin is a published author in the St. Mary's Law Journal.
Share This