How much proof is necessary for you to prevail in a personal injury lawsuit? Must you prove every single fact and allegation? Personal injury matters are civil cases, as opposed to criminal cases. Accordingly, civil cases require a minimum standard of proof, commonly referred to as the "preponderance of evidence."
In civil cases such as personal injury cases, the person who is suing for injuries or other damages (the plaintiff) has the burden of producing enough evidence to convince the judge or jury that what is alleged actually happened.
The evidence can be presented by oral testimony, documents such as medical records, photographs, videotape, and in most personal injury cases, expert testimony from doctors or accident reconstruction experts.
The preponderance of evidence standard is also explained in terms of percentages. The plaintiff should meet the burden of proving all elements of the case (including fault and damages) by more than 50%. Therefore, if the judge or jury believes the plaintiff met 50.01% of the burden, the plaintiff would still prevail.
Your personal injury case need not be a perfect one for you to prevail in a lawsuit. However, you must be able to convince the jury or judge trying your case that your evidence is more credible than that of the defendant. Texas is one of 20 states that recognize what is known as the "51% Bar Rule." Under this rule, a plaintiff is not entitled to any compensation if he or she is more than 50% at fault in an accident.   In other words, if you are involved in an accident, you can only be compensated if the other driver was 50% or more at fault than you.
Proving who was at fault in a Texas car crash is largely a matter of determining who was negligent. In many cases, the answer will be apparent – but in some instances, you and your Texas personal injury attorney will need to aggressively advocate your position to obtain the best possible result.
If you or a loved one has suffered an injury, the experienced personal injury legal team at Roberts & Roberts is here to help with compassionate, aggressive representation. Please call 800-248-6000 or contact us for a free consultation.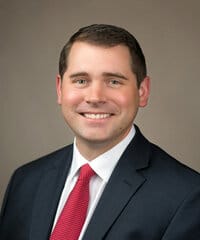 Justin is an attorney at Roberts & Roberts and focuses his practice on mass tort litigation, where he specializes in helping individuals who are harmed by recalled or unsafe pharmaceutical drugs and medical devices. He has earned recognition as a "Top 40 Under 40" Trial Lawyer by the National Trial Lawyers. Prior to joining Roberts & Roberts, Justin served as an attorney in all three branches of Texas's state government, including as a Briefing Attorney on the Texas Supreme Court. He also represented electric and natural gas utilities in complex regulatory proceedings before the Public Utility Commission of Texas and the Railroad Commission of Texas. Justin is a published author in the St. Mary's Law Journal.
Share This