In late December 2016, 40-year-old Kelly Huber of San Antonio was killed after falling from a ski lift at Ski Granby Ranch resort in Colorado. In addition, her two children were injured in the fall.
Most skiing injuries are considered an innate risk of the sport, and consequently, no liability is usually imposed upon a ski resort owner. For example, skiers often fall on icy ground and injure themselves. The icy ground, snow covered tree stumps, bushes and changing ground levels are all considered a natural occurrence and an inherent risk of skiing.
While a ski resort owner is required to adequately maintain the conditions of the resort property and generally provide a safe environment for skiers, the owner may not be responsible for injuries resulting from the natural risks of skiing. If you are injured in a skiing accident, it is your obligation to prove that your injury was caused by the negligence of the resort owner in order to receive any compensation for damages.
The resort owner may be liable for any damages caused by:
Incorrect design or construction of a ski slope or slalom
An existing danger (such as a steep drop) that was encountered without warning
Lack of warning regarding dangers involving man-made objects (such as an unpadded steel pole)
Failure to maintain equipment such as a ski lift properly
Injuries that skiers impose upon themselves, such as collisions between skiers or structures, are generally not the responsibility of ski resort owners. However, injuries occurring as a result of a ski lift operator's improper boarding instructions or lack of supervision may be the responsibility of the ski resort owner. But if an injury is caused by the ski lift user's own negligence, a ski resort owner may be free from any accountability.
The attorneys of Roberts & Roberts have the skill, experience and resources to fully investigate any serious accident or death.  If you have a question about an accident involving a serious injury or fatality, please call 800-248-6000 or contact us for a free consultation.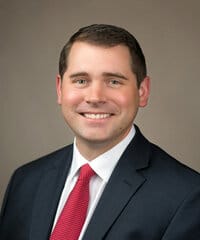 Justin is an attorney at Roberts & Roberts and focuses his practice on mass tort litigation, where he specializes in helping individuals who are harmed by recalled or unsafe pharmaceutical drugs and medical devices. He has earned recognition as a "Top 40 Under 40" Trial Lawyer by the National Trial Lawyers. Prior to joining Roberts & Roberts, Justin served as an attorney in all three branches of Texas's state government, including as a Briefing Attorney on the Texas Supreme Court. He also represented electric and natural gas utilities in complex regulatory proceedings before the Public Utility Commission of Texas and the Railroad Commission of Texas. Justin is a published author in the St. Mary's Law Journal.
Share This