You're injured, shaken up, and confused. The other driver who hit you is nowhere to be found. What comes next?
Hit-and-run accidents are scary, frustrating, and maddening. They're also shockingly common. Worst of all, they can leave victims in serious medical and financial trouble, with no hit-and-run driver to make an insurance claim against.
If you've recently been a victim of a hit-and-run accident in East Texas, it's important to act quickly in order to give yourself the best possible chance at a good recovery to pay your medical bills, lost wages, and other damages. In this blog, we'll provide a step-by-step guide on what to do if you're involved in a hit and run accident in East Texas, and explain how working with an experienced car accident lawyer can make a significant difference.
What to Do After a Hit and Run: 6 Key Steps
As soon as possible, prioritize taking care of the following things:
Seek Medical Attention
Your health and safety should always be your first priority after any car accident. Even if you don't think you were seriously injured, the adrenaline rush after an accident can mask symptoms. Furthermore, some symptoms might not develop for days or even weeks after the crash, or could worsen with time.
Seek medical attention as soon as possible and get thoroughly evaluated. Any injuries, even minor ones, should be documented by a medical professional. This not only results in better health outcomes, but gives you the detailed medical records you'll need for your legal case.
Document the Crash
Use your smartphone to take photos of anything that might be relevant to your personal injury claim. This includes injuries you sustained, damage to your vehicle, debris or skid marks on the roadway (especially any debris that might have been left behind by the other vehicle), light and weather conditions, etc.
These will serve as valuable evidence later when dealing with insurance companies and pursuing legal action. Look for and photograph debris left behind by the other vehicle as well.
Talk to Eyewitnesses
If anybody else witnessed the car accident, be sure to get their contact information and take any statements about what they saw or remember. These statements are important evidence that can help convince the insurance company that you are telling the truth and were not at fault for the accident. Other eyewitnesses may also be able to recall facts about the other vehicle or other driver that you missed, such as vehicle make and model, license plate information, etc.
Call the Police and File an Accident Report
Do not leave the scene of the accident until the police arrive and you file an accident report. Provide the police with all the details you can remember, including a description of the vehicle and driver. Ask any witnesses to give a statement to the police as well. The report will be critical for insurance and legal claims later.
Note that, under Texas law, you are legally required to report any accident that causes any bodily injury or does at least $1,000 in property damage. (This essentially includes all but the most minor collisions.) While you technically have 10 days to file this report, it's best not to delay.
Notify Your Insurance Company
Most likely, your auto insurance policy will require you to notify them that an accident took place as soon as practically possible after the crash. This is critically important after a hit-and-run, since it's very likely you'll need to make an auto accident claim against your own insurance company. (More on this below.)
Contact a Personal Injury Attorney
An experienced personal injury attorney can advise you on the best next steps and legal options. And the sooner you reach out, the more likely they will be able to help.
Very soon after a car accident, key evidence starts to disappear—and if you don't protect it, you may lose it forever. You'll also need to consider deadlines, legal paperwork, settlement negotiations, and other complex legal matters.
Simply put, this should not be your priority. Getting healthy should be your main focus. Working with a car accident lawyer as soon as possible can help you ease your burden and improve your chances of making a successful injury claim.
Do I Have a Personal Injury Case After a Texas Hit-and-Run Accident? Addressing the Legal Options
Hit and run accidents can be challenging cases, particularly if the other driver cannot be located. However, that doesn't mean you're necessarily out of legal options.
Who Pays for My Damages After a Hit-and-Run Accident?
Under Texas law, the at-fault driver bears primary responsibility for paying medical expenses, lost wages, pain and suffering, and other losses you suffer after a car accident. The best-case scenario is that the hit and run driver will eventually be caught, and you'll be able to file an insurance claim against their liability coverage.
However, the unfortunate reality is that many hit-and-run drivers are never found—and even those who do get caught frequently do not have auto insurance or significant personal assets.
In cases where the other driver isn't found after a hit-and-run car accident, or they simply aren't carrying enough insurance to cover your damages, you'll likely need to rely on other sources of insurance coverage. The most important of these include:
Uninsured motorist coverage. Unless you declined it in writing, you are likely carrying uninsured and underinsured motorist coverage (UM/UIM) as part of your own car insurance policy. UM/UIM coverage is meant to act in the place of liability insurance when the other driver is unidentified, doesn't have insurance, or doesn't have enough insurance to pay your personal injury claim.
Personal injury protection (PIP). Also included with your car insurance coverage unless you previously declined it, PIP is "no fault" coverage that covers medical bills and lost wages (but not any non-economic damages such as pain and suffering or emotional trauma). Because it's no-fault, you don't need to prove that the hit-and-run driver caused the accident before filing a successful claim, and can generally access funds much more quickly.
Other insurance policies. Depending on your circumstances, you may rely on other forms of coverage to help support you in the aftermath of an accident, such as your health insurance, short-term disability, or long-term disability.
Don't Expect an Easy Time With UM/UIM Claims
You might be forgiven for thinking that your own car insurance company is going to treat you better than other driver's insurance company would. After all, you are a "valued customer," and you pay your premiums on time.
Unfortunately, that usually isn't how it works. As soon as you file an uninsured motorist claim, your own insurance company no longer has your best interests at heart. They make money by denying claims or settling them for as little as possible. They will not treat you any differently even if you are a current customer. They will protect their bottom line—not you.
How Roberts & Roberts Can Help After a Hit-and-Run Accident
Our experienced car accident attorneys understand what you're going through. We pride ourselves on going the extra mile for our clients and taking care of them from start to finish. That means working hard to ensure you maximize the compensation available to you after a hit-and-run. It also means helping you in other ways that make a difference.
Some concrete ways our attorneys help accident victims include:
Identifying all insurance policies that might apply to your situation, and how much insurance coverage is available.
Quickly and thoroughly investigating the car crash. That could include things like following up with eyewitnesses, identifying and preserving security camera footage that might be available, reviewing the police report for inaccuracies, and working with accident reconstruction experts to analyze the available evidence.
Helping you get the medical care you need.
Carefully obtaining and reviewing medical records and other evidence documenting your injuries, and working with experts (doctors, life care planners, etc.) to calculate truly fair compensation for your losses.
Helping you obtain a rental car and get your car repaired after the crash.
Negotiating with the applicable insurance companies on your behalf—and, if necessary, filing a personal injury lawsuit and preparing to represent you at trial if the insurance company won't offer a fair settlement.
Contact Roberts & Roberts for a Free Consultation Today
Our attorneys have been helping car accident victims in East Texas protect their legal rights for more than 40 years. We're a nationally recognized, locally trusted law firm with more than 500 5-star reviews and a track record of significant verdicts and settlements, including multiple million-dollar cases.
It costs you nothing to hire us—we only get paid if we settle your case successfully.
To request your free consultation with Roberts & Roberts, call 800-248-6000 or fill out our online contact form. The call costs you nothing… it could mean everything.
The content provided here is for informational purposes only and should not be construed as legal advice on any subject.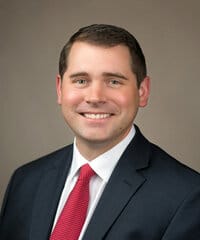 Justin is an attorney at Roberts & Roberts and focuses his practice on mass tort litigation, where he specializes in helping individuals who are harmed by recalled or unsafe pharmaceutical drugs and medical devices. He has earned recognition as a "Top 40 Under 40" Trial Lawyer by the National Trial Lawyers. Prior to joining Roberts & Roberts, Justin served as an attorney in all three branches of Texas's state government, including as a Briefing Attorney on the Texas Supreme Court. He also represented electric and natural gas utilities in complex regulatory proceedings before the Public Utility Commission of Texas and the Railroad Commission of Texas. Justin is a published author in the St. Mary's Law Journal.
Share This